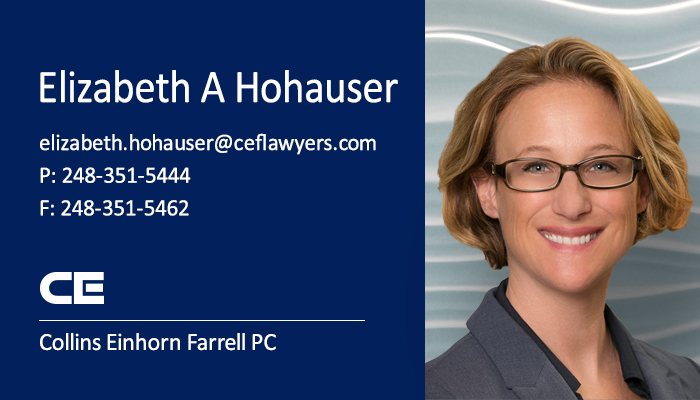 We are pleased to announce that attorney Elizabeth A. Hohauser has joined the firm's General and Automotive Practice Group. Ms. Hohauser will be focusing her practice primarily on first- and third-party automotive liability litigation. Prior to joining the firm, she gained extensive experience representing clients in a wide range of matters, including personal injury, medical malpractice, product liability, and commercial litigation.
Hohauser received a Bachelor of Arts from Michigan State University in 1993 and went on to obtain a Juris Doctor in 1999 from the University of Detroit Mercy School of Law, graduating first in her class. She is a member of the Oakland County Bar Association and serves on its Law Related Education Committee.
Hohauser is active in the community. She serves as a volunteer and fundraising board member of Upland Hills School. She is also a founding member of P.O.W.E.R., a networking group for women business owners in her city of residence, Rochester, Michigan.