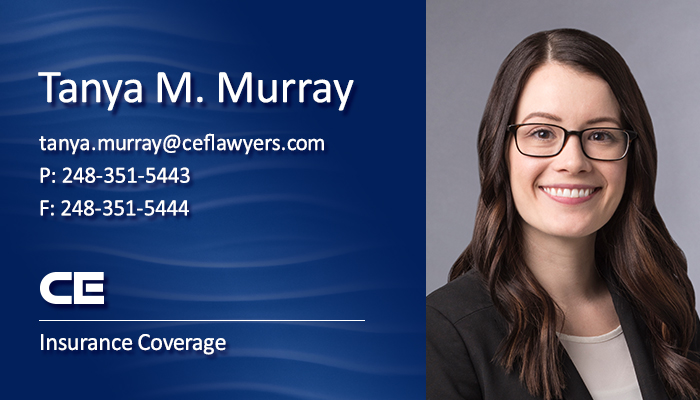 Collins Einhorn Farrell PC is pleased to announce that attorney Tanya M. Murray recently joined the firm's Insurance Coverage practice group. Ms. Murray represents and counsels clients by providing coverage opinions and drafting corresponding coverage position letters encompassing a wide variety of claims under commercial general liability, homeowners, umbrella and professional liability insurance policies. She also litigates coverage disputes arising from claims for bodily injury, property damage, personal and advertising injury, construction defects and toxic torts among others.
Ms. Murray graduated from the University of Western Ontario with her Bachelor of Arts, Honors Specialization in Kinesiology. Ms. Murray went on to obtain her Juris Doctor, magna cum laude, at Detroit Mercy Law, where she was inducted into the Frank Murphy Honor Society. While in law school, she served as an Associate Title Editor for law review, and published "How to Slay the Hydra: Adopting Charles Alan Wright's 'The Law of Remedies as a Social Institution' as a Framework for Preventing Data Breaches." Additionally, Ms. Murray was as an Executive Board Member for moot court, and competed in the John J. Gibbons Moot Court Competition and New York State Bar National Moot Court Competition. She is a member of Oakland County Bar Association and the Women's Bar Association – Oakland Region.
Ms. Murray is a resident of Ypsilanti, Michigan.