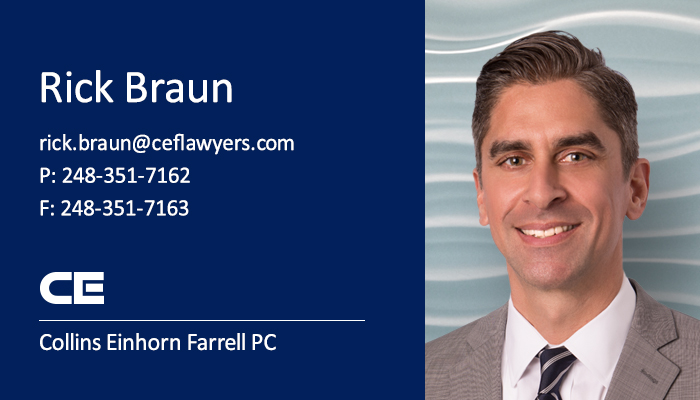 On Friday, April 27, 2018, attorney Rick Braun will be speaking at the Environmental and Emerging Claim Manager Association Annual Conference, to be held in Orlando, Florida. The session is entitled "WARNING:  This Subject Contains a Discussion of Chemicals Known to Cause Cancer – Proposition 65 and Labeling Laws: Who Actually Benefits in the Age of Over-Warning?" He will be joined by Christine D. Calareso, Esq. (CMBG3 LLC) and Ryan Landis, Esq. (Polsinelli).
Information covered will include a review of California's Prop 65, the trend toward similar laws in other jurisdictions, and how to combat and prevent claims related to labeling and warnings.
Mr. Braun is a partner at Collins Einhorn Farrell PC and is a member of the firm's national Asbestos/Toxic Tort practice group. He defends asbestos claims, premises owners, non-manufacturing suppliers, and manufacturers of industrial equipment, friction products, and electrical components. He is a frequent speaker on various environmental and toxic tort issues.
About EECMA
The Emerging and Environmental Claims Managers Association (EECMA) is an informal association of major and minor, domestic and international, property and casualty insurers and reinsurers. The members of EECMA are focused on continued education about the many issues surrounding environmental, asbestos, and other long-term exposure litigation that continues to challenge members and policyholders.