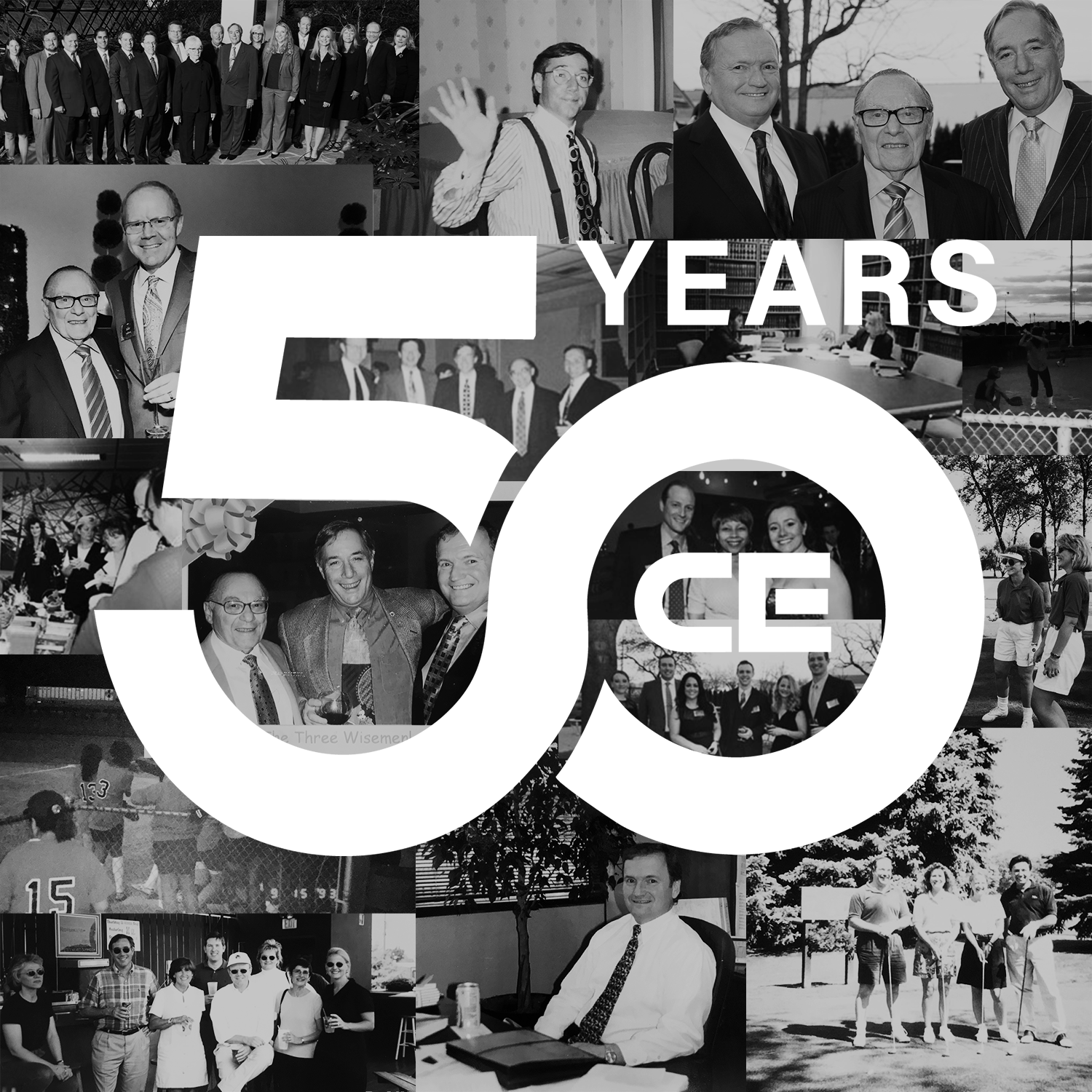 October 14th – Introduction
#ThrowbackThursday As part of our year-long 50th Anniversary Celebration, Collins Einhorn will be launching a series of #throwbackthursday posts starting next Thursday. The series will delve into the rich history of our firm. We will be shining the light on the individuals who were the foundation of the firm and who made CEF what it is today. #CEFthrives #goldenanniversary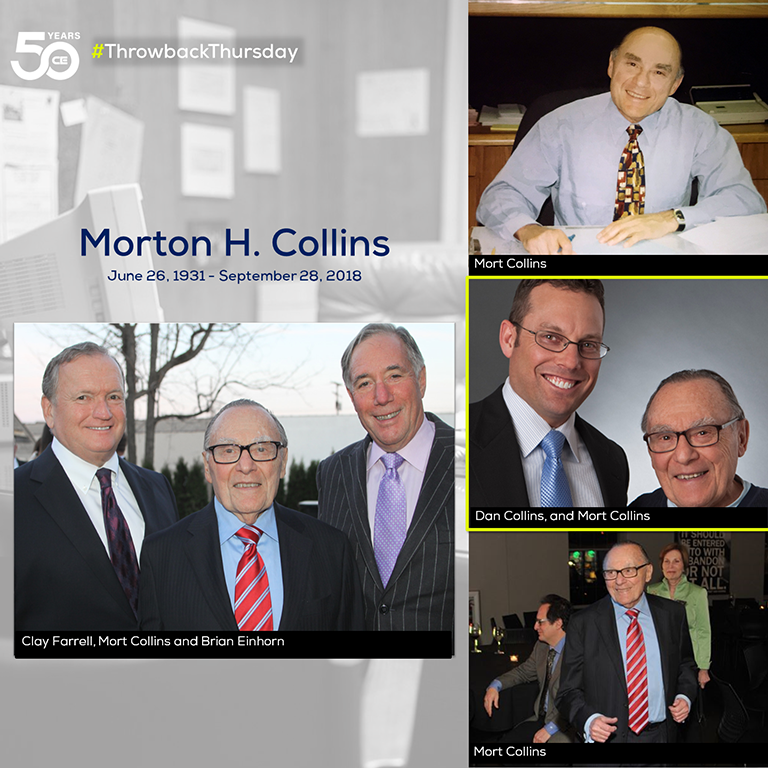 October 21st – Mort Collins
#ThrowbackThursday: Where better to begin our look back at Collins Einhorn's 50-year history than with our founder, Mort Collins. Sadly, we lost Mort in September 2018. At the time, former CEF president Mike Sullivan perfectly captured Mort's legacy with the following firm-wide message: "Mort was very proud of the firm that he founded, the accomplishments of all of you, and the opportunities he helped create for all of us. We are in his debt."
CEF's culture began with Mort, who effortlessly balanced being a good soul with being a fierce warrior on behalf of his clients. Mort's youngest child, Dan, now president of the firm, has for years described his dad as "the ultimate zealous advocate for family, clients, friends, and co-workers." Mort took great pride in all aspects of CEF, but he held the jobs created and livelihoods sustained in the highest regard. Today we salute Mort's life well-lived; he will always be missed by his CEF family. #CEFthrives #goldenanniversary.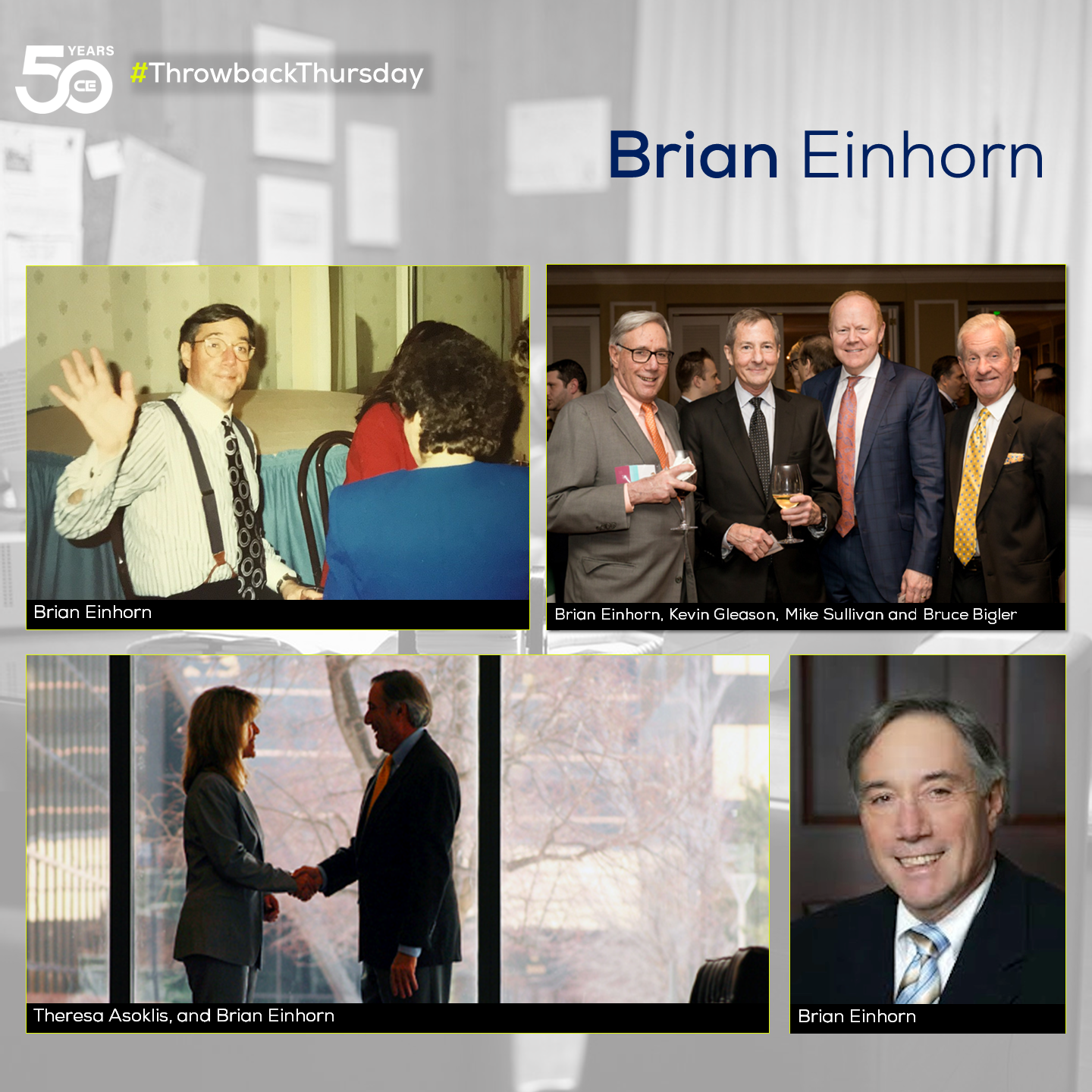 October 28th– Brian Einhorn
#ThrowbackThursday: The "Lawyer for Lawyers." No attorney in the State of Michigan better fits that description than Brian Einhorn. Although Brian has litigated and tried hundreds of cases in all areas of civil defense, he is best known as the lawyer sought out by other lawyers and judges in defending malpractice claims and judicial disciplinary proceedings.
Brian celebrated his own 50th anniversary as a lawyer in 2017. In 2013-14, he led the State Bar of Michigan as its 79th president. He's been honored with numerous awards over his career including the Earl J. Cline Award for Excellence from the SBM Negligence Law Section, the Excellence in Defense Award from the Michigan Defense Trial Counsel, and the Lifetime Achievement Award from the ADTC. He has been named "Lawyer of the Year" by Best Lawyers five times in four different practice areas.
But Brian's proudest career achievement is as a founding member (with Mort Collins) of the law firm they formed in 1971. Brian reflected on this achievement: "From the beginning, we always strived to bring in talented, hard-working lawyers who care about both their work product and our profession. Nothing professionally has brought me more satisfaction than the often-heard compliments I receive from other lawyers and judges about how much they enjoy and respect their interactions with our lawyers. I am very proud that Mort, Clay, and I were able to establish a culture that will long outlast our respective lifetimes."
Today we salute Brian Einhorn, a proven leader and all-around great guy, who is affectionately known as "Chief" by his law partners. #CEFthrives #goldenanniversary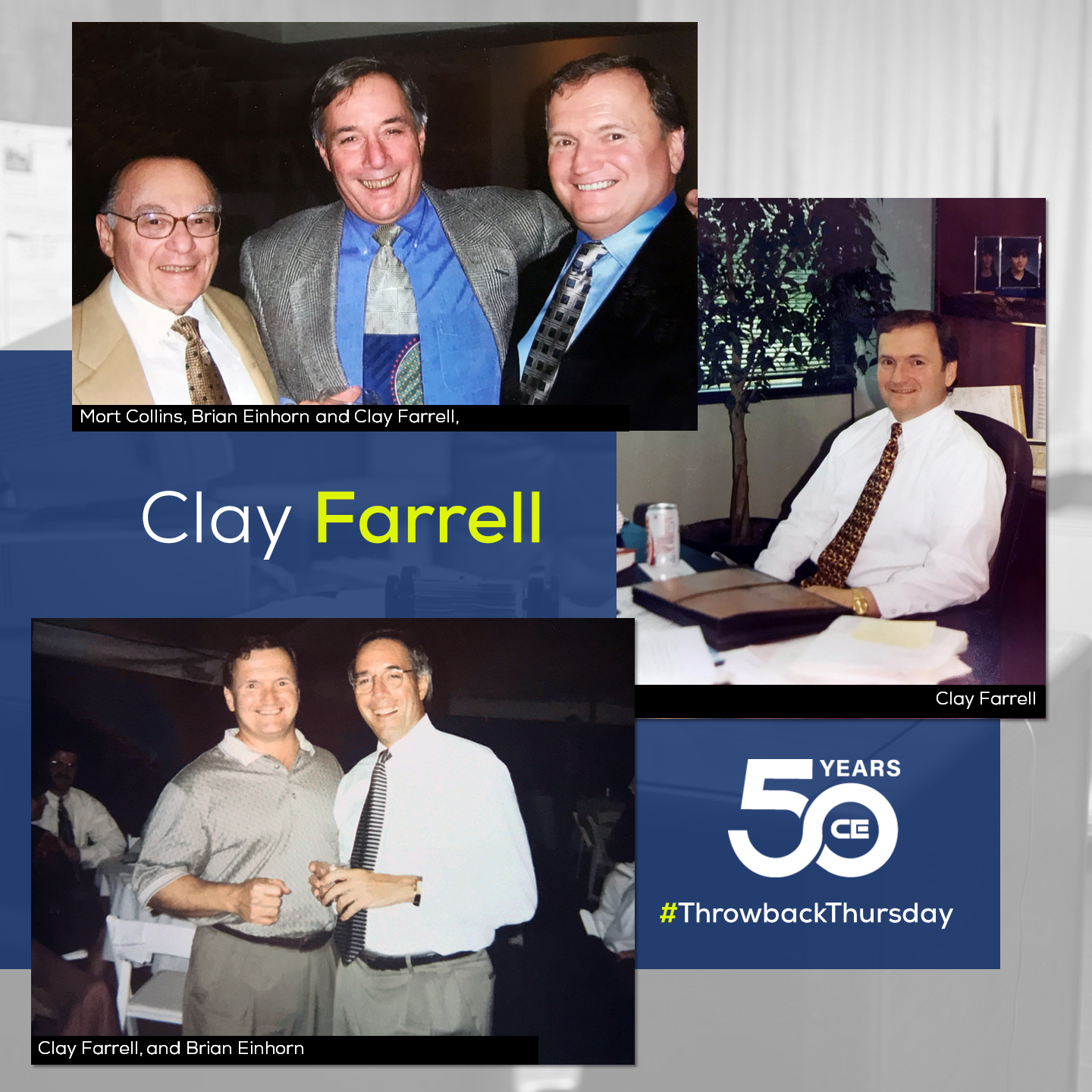 November 4th – Clay Farrell
#ThrowbackThursday In 1973, Clayton Farrell Farrell joined Mort Collins and Brian Einhorn fresh out of law school. Through the mid-1970s, Clay successfully tried a variety of civil cases to verdict. In recognition of his valuable contributions, the firm name was changed to Collins Einhorn Farrell in 1979.
A defining moment occurred in 1977 when Mort asked Clay to "run with" a new case. It just happened to be the third asbestos-bodily injury case filed in Michigan. And "run with" it Clay did! Over the next several decades, Clay defended asbestos cases for a multitude of clients in Michigan and tried numerous asbestos cases across the country. Clay also served as a National Coordinating Counsel for several asbestos clients. Thanks to Clay, CEF's asbestos-defense practice has flourished for over four decades.
Whether preparing for trial or talking over defense strategy with counsel and clients, Clay has always reflected on and pointed to the last two lines of his favorite poem, My Orders, which read, "I was not told to win or lose, – My orders are to fight."
Clay served as managing partner of the firm for over 20 years. His leadership was integral to the growth, reputation, and culture of the firm.
Today we salute Clay Farrell. Thank you Clay for all of your valuable contributions over the years. #CEFthrives #goldenanniversary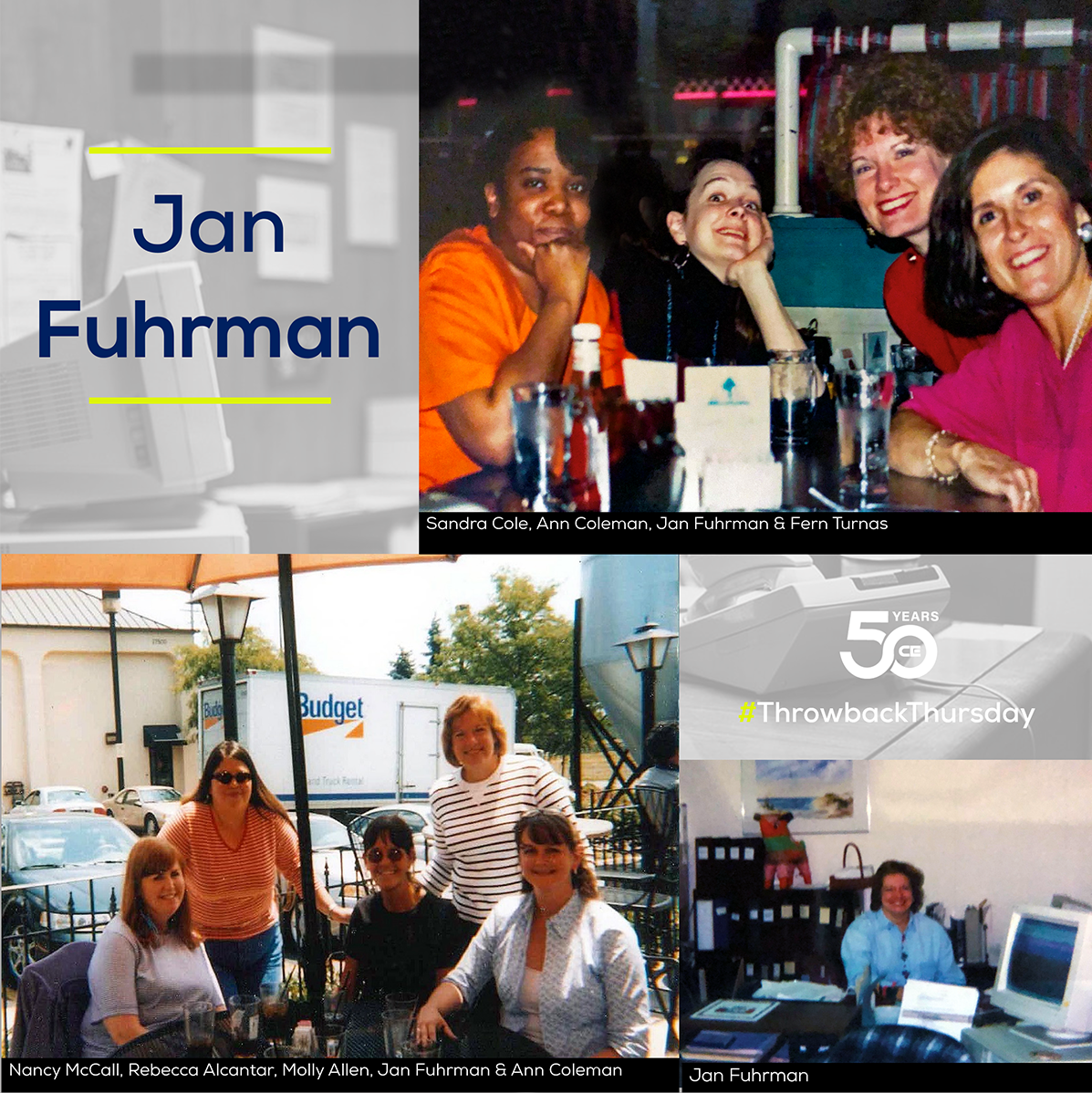 November 11th – Jan Fuhrman
#ThrowbackThursday In 1971, about three months after Brian Einhorn joined Mort Collins, they realized additional assistance was necessary. Soon Jan Fuhrman was hired as a legal assistant for what was to be her first job. That "first job" lasted an amazing 49 years! Jan held and excelled at a variety of positions and roles at CEF, including legal assistant, paralegal, and most certainly firm historian.
Upon Jan's retirement in the spring of 2020, Dan Collins sent an announcement acknowledging the rarity of such a career: "After 49 years (yes – you read that correctly), Jan Fuhrman has retired from CEF."
Jan recently reflected on her remarkable career: "I know the firm has always been well-respected in the legal community. What the public may not know is how supportive the firm employees have always been to each other. Co-workers step up to help and support each other in times of difficulty and crisis, and celebrate happy times as well! I've always been proud to say I worked at Collins Einhorn Farrell!" Today we salute Jan Fuhrman, who will forever be a part of CEF! #CEFthrives #goldenanniversary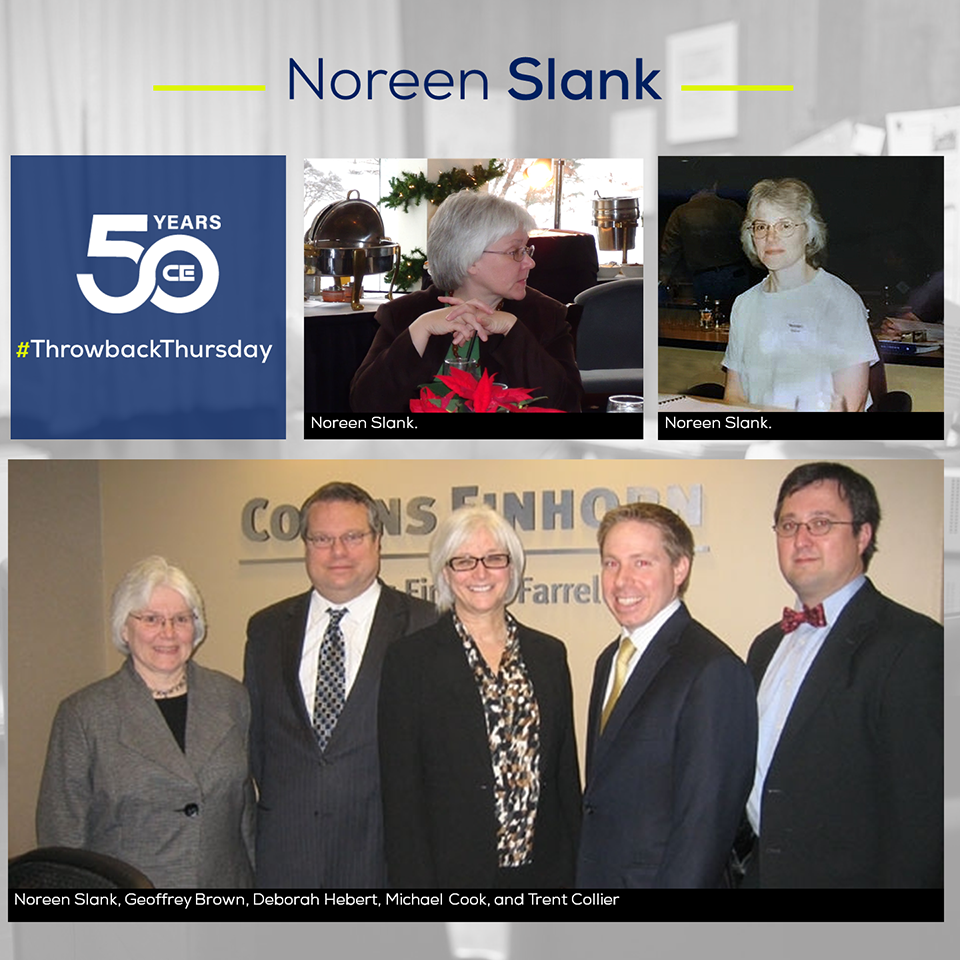 November 18th – Noreen Slank
#ThrowbackThursday In 1980, Collins Einhorn hired Noreen Slank to join what was then a five-attorney firm. Noreen would later become the firm's first female shareholder, paving the way for the future CEF women attorneys. Today, CEF is 38% female-owned and almost half of the firm's active lawyers are women.
From the beginning, Noreen was the firm's go-to attorney for appellate litigation. Today the firm's appellate practice group includes six attorneys. For the past six years, this group has achieved a national ranking by Best Lawyers/Best Law Firms. This notoriety is due in large measure to Noreen's mentoring of the firm's new lawyers and long record of success on behalf of the firm's clients. After 37 years of practice, and an accumulation of honors and awards too numerous to list, Noreen retired from the practice in 2017.
Michael Cook, the current co-chair of CEF's appellate practice group, spoke about his mentor: "Noreen was a force. She was Michigan's best appellate attorney for decades because she immersed herself in cases and issues like no one else. Just being around her made us all better attorneys." Today we salute Noreen Slank a trailblazer, appellate guru, and the one we described as the "brains behind the operation." #CEFthrives #goldenanniversary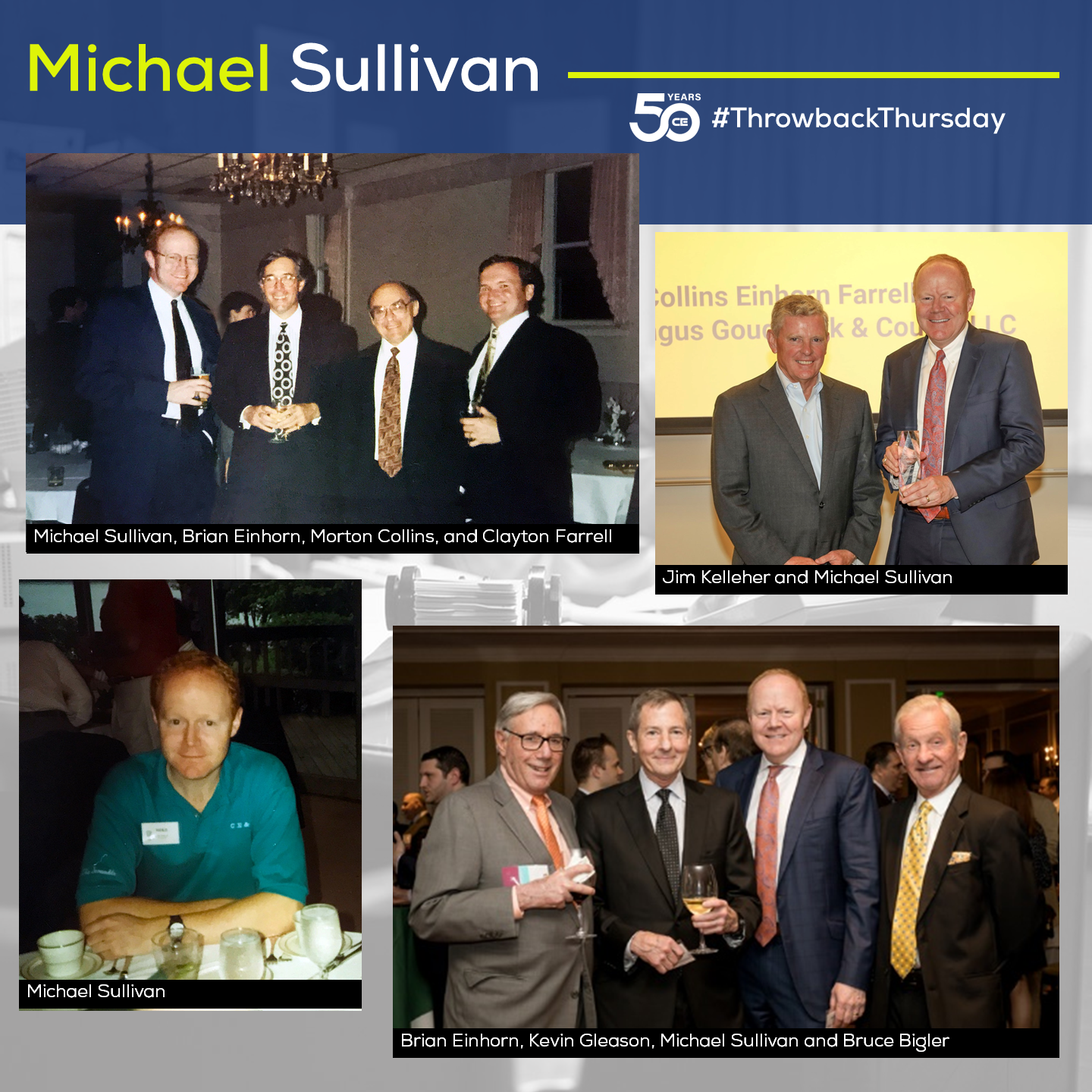 November 24th (Wednesday before Thanksgiving) – Michael Sullivan
#ThrowbackWednesdayIn 1983, the day after he graduated from law school, Michael Sullivan joined the firm as its eighth lawyer. Mort, Brian, and Clay recognized Mike's talent early on, and in 1988 he was promoted to partner in record speed.
Mike served as president and co-managing shareholder of the firm from 2009-2019. Under his leadership, the firm grew in size and stature. CEF shareholder, Kellie Howard-Goudy, recounts: "Mike made many contributions to our firm and this profession. One that will last and proliferate is his mentorship and encouragement of other attorneys. Mike trained not just legal instinct and professionalism but also wisdom, courage, and business ambition. It is a legacy that will last for generations."
Mike set the gold standard for leadership outside the firm too. In 2007-2008, he served as President of the Oakland County Bar Association. He also served as the Oakland County Bar Foundation's President in 2009-2010. In 2017-2018 he served as chair to the SBM Negligence Law Section. CEF's David Anderson observed: "As a skillful and respected bar leader, Mike represented our firm well, gave back to the community, and further raised our firm's profile, making it all the more successful."
His peers in the legal industry have also recognized Mike's dedicated service to the profession. His impressive list of honors and awards include the OCBA Distinguished Service Award (2005), the Kimberly M. Cahill Bar Leadership Award (2019), the Michigan Defense Trial Counsel Excellence in Defense Award (2021), and the OCBA Professionalism Award (2021). He has earned "Lawyer of the Year" designations from Best Lawyers seven times in the areas of legal/professional malpractice defense.
Today we salute Mike Sullivan, a true leader, consummate professional, and an outstanding lawyer. #ThrowbackThursday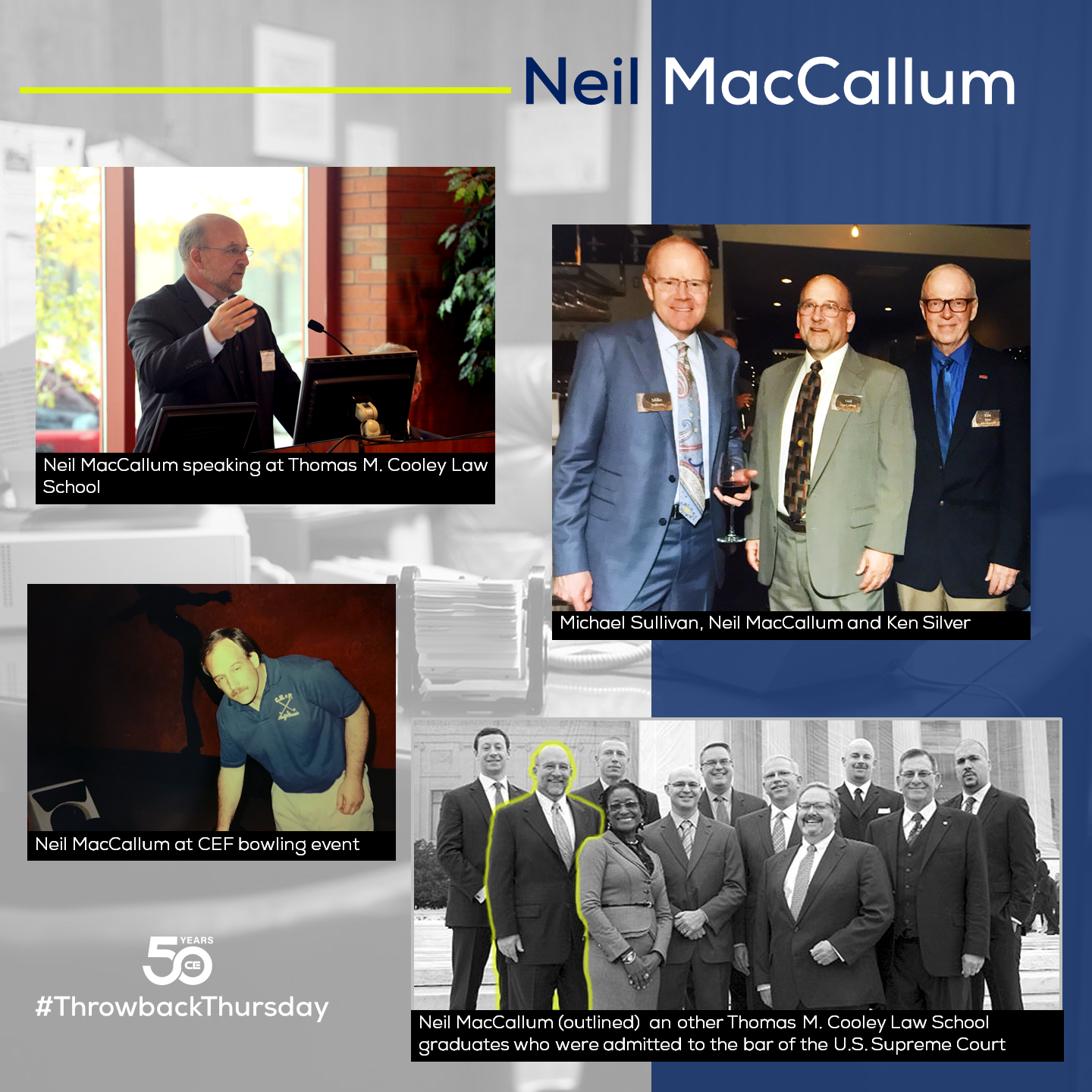 December 2nd – Neil MacCallum
#ThrowbackThursdayIn 1988, Neil MacCallum joined CEF following his honorable discharge from the JAG Corps. Neil's attention to detail allowed him to manage, defend, and efficiently oversee the firm's numerous asbestos-bodily injury clients on the country's largest and most active docket. Neil with calendar, three-ring binder, and ruler in hand was a common sight at CEF over his 30 years.
Neil's partners also recognized his knack for detail, asking him to take on many firm management projects through the late 1990s and 2000s. In 2009, Neil became CEO and co-managing shareholder with Mike Sullivan, as the firm moved to its second generation of leadership. CEF experienced substantial growth during their 10 years at the helm. Sullivan reflects on their years together managing the firm: "I was lucky to have Neil to share the management responsibilities with for 10 years. Neil had a calmness about him that made any problem seem surmountable. One of his favorite sayings was 'what are the unintended consequences of what we are about to do?' That little saying prevented us from making any (big) mistakes."
Neil was known to say that folks' goals should always include leaving a place better than they found it. Today we salute Neil MacCallum who achieved this goal and most certainly left CEF a better place than he found it!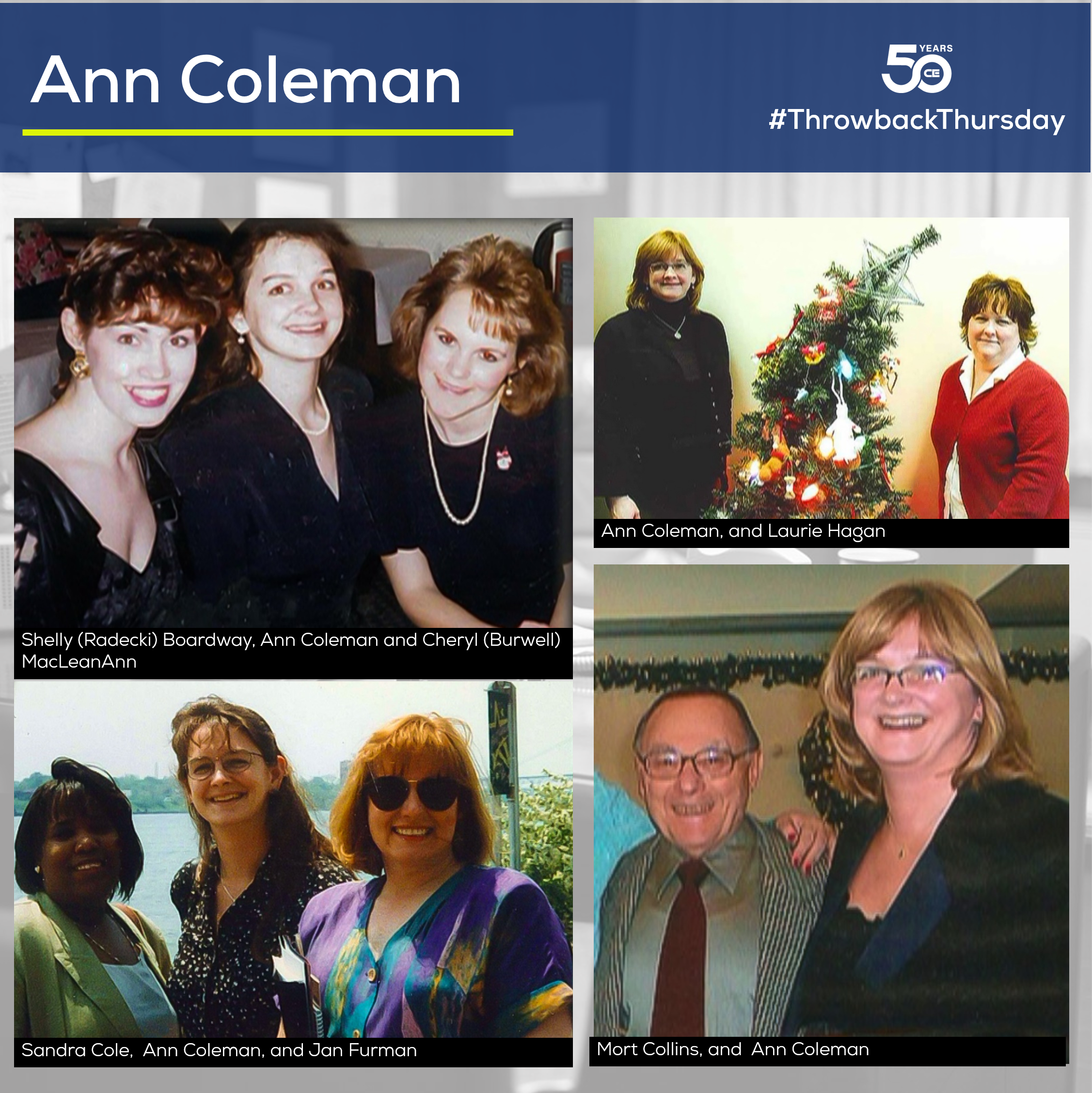 December 9th – Ann Coleman
#ThrowbackThursday As part of our year-long 50th Anniversary celebration, Collins Einhorn's series of #throwbackthursday posts have shined the light on the individuals who were the foundation of the firm and who have made CEF what it is today. Today we conclude our series by honoring our longest-tenured non-attorney employee, Ann Coleman.
In 1989, Ann joined CEF as a file clerk on the Asbestos Team. She quickly advanced to paralegal, and what a paralegal she has been! Ann has transformed the asbestos-litigation landscape. She has developed data management programs, maintained vast amounts of historical information, and provided vision on how to efficiently oversee a mass tort docket. Ann has rightfully earned a nationwide reputation as the premier paralegal for her innovation and insight.
CEF's Katie Crowley reflects on Ann's 32-year career: "Ann's work ethic, institutional knowledge, and attention to detail are unparalleled. She is a true team player, supporting and teaching the CEF asbestos team as we navigate this litigation both in Michigan and across the country. We continue to run smoothly because of the time, effort, and care she puts into her work on a daily basis. I am personally thankful for her friendship in and out of the office."
Today we salute Ann Coleman, a shining example of all that is CEF!